Question and Answer with Jacquelynne Steves

FreeQuiltPatterns: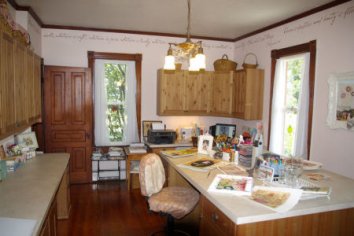 What got you started quilting?
Jacquelynne:
I have tried just about every creative hobby- I have painted with acrylics and watercolors, sewn clothing, done cross stitch, and taken pottery classes. About 10 years ago, a friend of mine and I saw a sign for a quilting class, and we decided that it was a good excuse for us to get together once a week for some "girl time." I have been hoarding fabric ever since! And now, because I design fabric for Henry Glass & Co. I get to combine my love of painting watercolors and fabric collection, which is really tons of fun.
FreeQuiltPatterns:
What is your favorite pattern that you have designed?
Each new pattern is my favorite… but a couple of my particular favorites have been Basket of Posies http://www.thenoblewife.com/item_78/Basket-of-Posies-Quilt-Pattern.htm and Mad About You http://www.thenoblewife.com/item_104/NEW-Mad-About-You-Quilt-Pattern.htm
FreeQuiltPatterns:
What do you enjoy doing when you aren't quilting?
I really enjoy just hanging out with my family- our favorite Friday night activity is eating pizza or Chinese take-out while watching a couple of rented movies. Nobody can make me laugh like my kids do- I find them to be highly entertaining!
FreeQuiltPatterns:
What is your favorite quilt related memory?
Jacquelynne:
While my mom and grandmother both sewed clothing, I didn't grow up in a quilting family. I didn't know anything about quilting until I took that first class 10 years ago. But my grandmother and great- grandmother both did a lot of crochet… I remember sitting on the sofa next to my grandmother at her house while she taught me to crochet, and I have several afghans that my grandmother and great-grandmother made for me. A couple of them are over 40 years old.
FreeQuiltPatterns:
Tell us a little about your family.
My husband and I have been married over 21 years, and we have 2 daughters, ages 15 and 20. Our very mischievous black cat Maddie graciously allows us to live with her in a 160 year old farm house.