This year I'm introducing you to two shops each month. So once you download the block, visit them!


Shop Feature: Glenda's Sewing, St. Joseph, Missouri


Owner Glenda Bush of Glenda's Sewing is in St. Joseph Missouri since 1988. Originally started in one corner of the basement of the family home, their family owned and operated company has experienced tremendous growth throughout the years at 18255 County Road 349, located approximately 8 minutes North of St. Joseph, and has taken over the entire home. The upstairs consists of quilting fabric, notions, gifts, and classroom space. The basement continues to be the work space for the long arm quilting machine and upholstery.

They have supplies, classes, and they provide professional long arm quilting, upholstery (commercial, household, outdoor, and automotive), how cool is that!

After 27 years of service, Glenda's Sewing Cupboard is as passionate as ever about providing great customer service to our customers in a variety of areas including quilting, sewing, upholstery, and carpet binding, and supporting their creative endeavors!

They are also part of the quilt shops doing the 2017 Quilt Trail Run. It's in association with the
The American Genius Highway Quilt Trail includes 18 shops. Many of the associated businesses are conveniently located just off Highway 36, while others can be found within the Highway 36 Corridor (a zone spanning 36 miles north and 36 miles south of the actual highway).

The 2017 Quilt Trail Runs until October 2, 2017. Participants will have until October 31, 2017 to turn in a quilt top to a participating shop. More details at their website!.

Glenda's Sewing
Phone: 816-662-3105
18255 County Road 349
St. Joseph, MO 64505
M-F 9-5, Sat 9-3 Closed Sunday
http://www.glendassewing.com/
https://www.facebook.com/GlendasSewingCupboard/


----------------------------------------------------------------------------------------------------

Shop Feature: Sew Much More, Sherwood, Arkansas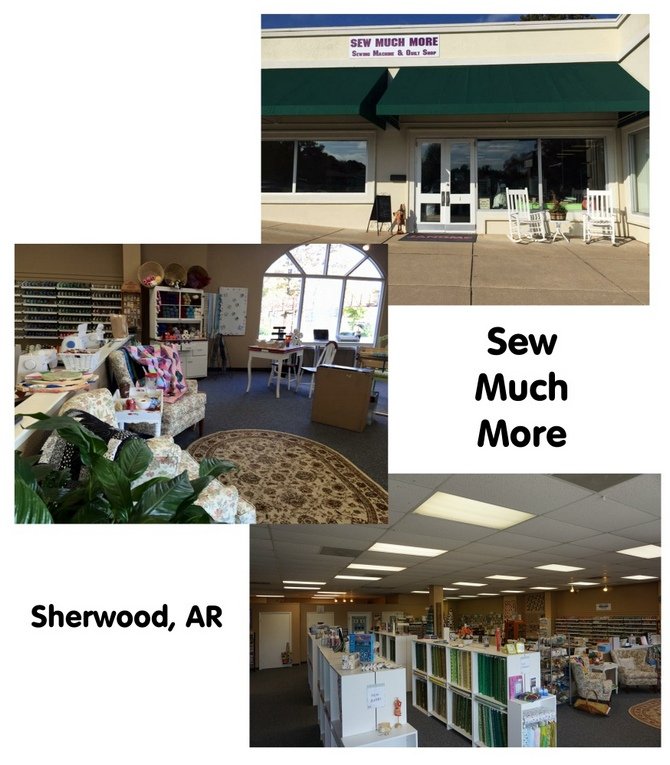 Angela Peabody is the owner of Sew Much More in Sherwood AR. They have been Pulaski County's one-stop sewing destination since 1996 with an extensive selection of fabrics (over 3000 bolts) notions, patterns, books, kits, tools, sewing machines.
They are also authorized dealers BERNINA, Pfaff, Singer, Janome, as well as providing superior service and repair by certified technicians with over 60 years of industry experience. We also offer a wide range of fun, informative classes for sewing and quilting enthusiasts of skill levels.
With over 100 years of combined sewing and quilting experience, our mission is to promote sewing enjoyment as we improve skills, teach new stitching techniques, instruct new machine owners, and inspire creativity. Our friendly, knowledgeable staff members are always on hand to guide customers to the products that will enhance their sewing experience and help them successfully complete their favorite projects.
Sew Much More
Phone 501-753-6050
2001 Kiehl Ave
Sherwood, AR 72120
Mon-Fri: 10am to 5pm - Sat: 10am to 2pm
sewmuchmoreinc.net
https://www.facebook.com/SewMuchMoreArkansas/
Where you can find Pat:
• Join Pat at her quilting Classroom on Facebook! Share your mystery quilt!
• Also join FreeQuiltPatterns.info on Facebook.
• If we have not met yet... it's super nice to know you!... Click here to learn about me.
You can find all the places I hang out at my home page, it's my name
http://www.patsloan.com/