Skip Navigation
Website Accessibility

Let's Go Camping BOM Block Six: Stirring the Pot
Pat's theme this year, 'Let's Go Camping!' has inspired us! We'd love to know where your first/next camping trip will be, tell us in the comments, maybe we'll see you at the campground!
The block download is after Pat discusses her inspiration for this month's block down below.
The supply list and blocks during the year will always be found at our landing page for the mystery. You'll find a list of participating shops here. The four prior years are also still available at the 'Mystery BOM' tab above.
And you will want to visit Pat's page for additional TIPS & to enter your block for a chance to win her giveaway each month!
Pat Sloan About This Month's Block
Block number six is Food, Food, Glorious Food! Camping works up an appetite and food just tastes better when you eat outside. Many of you have camping food traditions. Or you might be starting out camping and want to soak in all the nuances of cooking outdoors.

We are 'Stirring the Pot' this month and I took a look around to see what are a few unique and 'new to me' camping food traditions.

First up is a 'Shore Lunch'. I had never heard of this, what the heck is a shore lunch? Polling my friends who fish in Minnesota, here is what I learned.

When you go fishing with a guide, at lunch time the guides will build a campfire. Everyone that has gone fishing relaxes on the shore, while the guides prepare and cook the fish that you caught for a tasty lunch.

This sounds fun! I've never gone fishing, but it's a camping basic for so many. Have you done a Shore lunch?

Learn a little more about a Shore lunch at https://lakeofthewoodsmn.com/traditions-of-the-shore-lunch/. And some recipes at http://www.in-fisherman.com/recipes/lets-do-shore-lunch/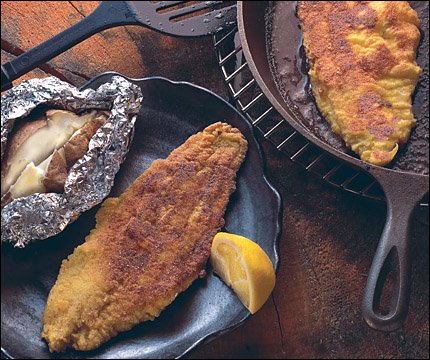 Photo courtesy of http://www.in-fisherman.com/recipes/lets-do-shore-lunch/

I have never really explored what traditional camping foods were. Hotdogs, baked beans, foil wrapped potatoes were about the extent of my food memories from girl scout camping. Luckily the internet has a LOT of information! Who knew you could make paper bag eggs? Here are a few items:

• Foil Packets meals you cook right on the fire
• Campfire Stews & Chili
• corn on the cob
• Shish Kebab
• Hotdogs on a stick, and you have to find your own stick!
• Roasted Marshmallows for S'mores

Traditional Camping foods where the paper bag eggs are https://traditionalcookingschool.com/food-preparation/recipes/16-recipes-and-tips-for-real-food-camping/



Now let's shift to 'my world' of camping with a bit of urban tailgate party throw into the mix, because if we are glamping we have access to a lot more tools!

• Shrimp
• chicken wings
• pulled pork fajitas (hey… the camper has a stove!)
• Varieties of dips & chips
• Fancy desserts
• and any other thing you can think of when you have a fridge and oven available!

Find some Tailgate favorites at the food networks top 50
https://www.foodnetwork.com/holidays-and-parties/packages/tailgating/food-networks-top-50-tailgating-recipes

NEXT MONTH, JULY, will be my Setting directions. Then we can start creating our quilt as the last blocks are released.



CLICK over to my website to add your block to my quilt show on my website, you might win a prize! http://blog.patsloan.com/2018-bom-mystery/

Do you have a favorite activity you do while camping? Perhaps something unique your family created? We'd love to hear it, tell us in the comments!

Download Let's Go Camping BOM: Block 6



Sign up to be the first to hear about each month's block!

Shop Features
Meet another set of GREAT quilt shops this month! Once you download the block, visit them, it's so fun to find new quilt shops to visit!

Hen and Chicks Studio, Conrad, Iowa
Hen & Chicks Studio has been providing the Conrad, Iowa, community with a delightful selection of fabrics, notions, and scrap booking supplies since October 2011.

The business also houses a fully-equipped retreat center where quilters and scrap bookers of all skill levels can enjoy a wide range of classes, clubs, and social events, as well as reserving the retreat center for special gatherings such as girlfriend getaways or family parties.

After a 25-year professional quilting career, and nearly 40 years of crafting, owner, Heidi Kaisand, decided to combine her experience and passion for inspiring creativity in others into a new business venture. Heidi indulges her creative spirit at Hen & Chicks Studio by helping individuals and groups succeed at quilting, scrap booking, and other art forms.

When Heidi's not working, she loves to spend time with her family, fishing, golfing, and gardening...squeezing in sewing and scrap booking as often as possible in between family activities.

Owner: Heidi Kaisand
Hen and Chicks Studio
https://www.henandchicksstudio.com/
https://www.facebook.com/HenAndChicksStudio

101 N Main St
Conrad, Iowa

Phone:
641-366-3336
Hours:
Sunday - Closed
Monday - Friday 10am - 5 pm
Saturday - 10am - 3 pm

Shop Feature: Quilting Sew Easy, Gaffney, South Carolina


Why don't you drop by and we'll introduce you to the first quilt store in Cherokee County in over 25 years. It might just bring back a bunch of those good feelings you had as a child while watching your grandmother or great-grandmother as they created unique quilts touched by loving hands.

Veteran quilter Ann Barnhill is pleased to offer classes specifically designed to help each person learn to quilt or improve their technique, regardless of whether they have quilted or even know how to sew.

Even beginners can learn how quilting can provide satisfaction and hours of gratification as they create something that will probably become a family heirloom.

We carry all kinds of fabric, threads, notions, patterns, books and other sewing and quilting items. We offer classes in quilting and sewing for beginners to advance person, children and adults.

Owner: Ann Barnhill & Darlene Womick – Quilting and Sewing Consultants

Quilting Sew Easy
http://www.quiltingseweasy.com/
https://www.facebook.com/QuiltingSewEasy/
1231 N Limestone St Ste A
Gaffney, South Carolina

Phone:
(864) 649-1313
Hours:
10 AM - 5 PM
Mon - Tue- Wed - Fri
Closed Thursdays
*If we are in shop, we are willing to help. Call to see if we are here!
Extended hours on Tuesday until 6:00 PM
Saturday 10:00 - 2:00




Where you can find Pat:

• Join Pat at her quilting Classroom on Facebook! Share your mystery quilt!
• Also join FreeQuiltPatterns.info on Facebook.
• If we have not met yet... it's super nice to know you!... Click here to learn about me.

You can find all the places I hang out at my home page, it's my name http://www.patsloan.com/



Do you like this Mystery BOM? If so, click the Like button below:
Are you loving our camping theme this year? Leave me a comment below telling me about your favorite camping foods or snacking activities!