Skip Navigation
Website Accessibility
Out of This World BOM Block Ten: Quilts & Space
And just like that, we are at our final block of Pat's 'Out of This World' BOM. Block of Month #10 is here and that means you can complete your 2019 sew along quilt!

CLICK HERE for the Project Page if you are just joining us or to download the supply list!

At the end of our posts each month we showcase two amazing quilt shops. You will be able to find new shops to visit on your travels.

Also be sure to visit Pat's page for additional tips, hints, information, and to enter your block for a chance to win her giveaway each month!


Pat Sloan About This Month's Block - Quilts About Space!
I think it's fitting to celebrate other quilt makers who put their spin on Space quilts for block #10 .
The quilt above was made in 1876 by Ellen Harding Baker. It is her "Solar System" Quilt.
From the article listed below:
"Baker taught science in rural Iowa, in an era when most institutions of higher education were still closed to women, all the while raising her five surviving children. She used her Solar System quilt to illustrate her astronomy lectures. To ensure the accuracy of her embroidered depiction, Baker traveled to the Chicago Observatory to view sunspots and a comet — most likely the Great Comet of 1882, which had become a national attraction — through the professional telescope there."
I find it so exciting that she spent 7 years working on this and then used it as a teaching tool. Read more here.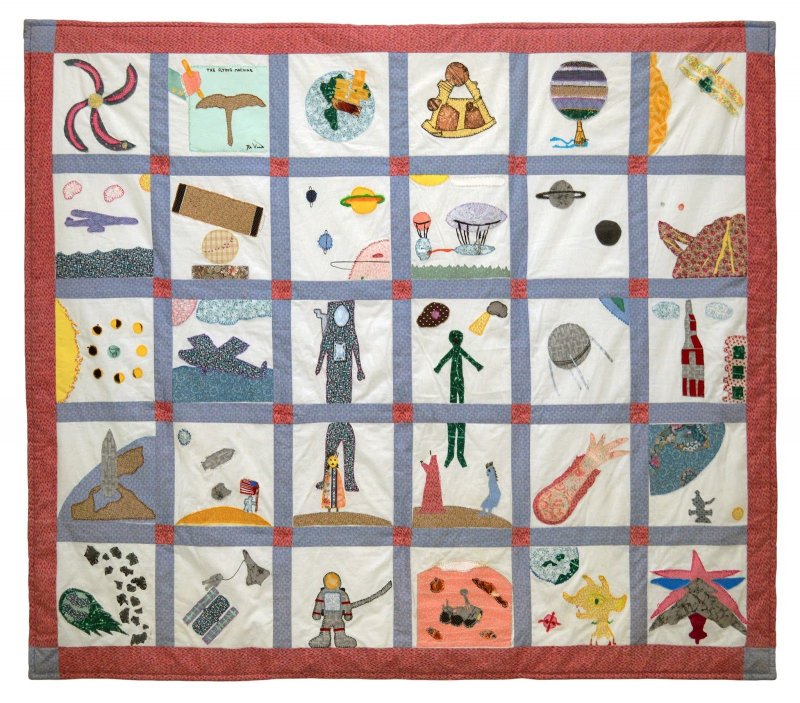 Awesome Outer Space Quilt - School Group from Wolfeboro, NH
My friend Bill Volckening is an antique quilt collector and this is one of his great finds! I love the blocks in row 3 and 4 where the bodies take up two blocks. Lots of interesting space things in each block.

Bill purchased this off eBay and it didn't come with much information. He started to research and found out the quilt was made by a group of school children in Wolfeboro, New Hampshire in 1995. You can read about how he researched this and found some of people who made the blocks!

https://willywonkyquilts.blogspot.com/2017/01/coming-soon-awesome-outer-space-quilt.html
https://willywonkyquilts.blogspot.com/2017/01/outer-space-quilt-pictures.html

At my blog in an article I posted this week I have a more current quilt using a panel that my friend Wendy Sheppard designed, such great panels out this year with space themes.

The topic of Space has been so much fun for me to research. I've loved taking a different part of 'space' and reading up on it each month.

My quote this month in honor of artists:


"Forget scientists. The next space launch we should send up painters, poets and musicians. I'd be more interested in what they discover than anything that takes place in a test tube."
― Author James Rozoff


** CLICK over to my website to add your block to my quilt show on my website, you might be my monthly random pick to win a prize!

Here is Pat's finished quilt!

Download Out of This World BOM: Block 10



Sign up to be the first to hear about each month's block!

Do you like this Mystery BOM? If so, click the Like button below:
Are you loving our Out of This World theme this year? Leave me a comment below telling me about your favorite space quilt!


Featured Shops
Take a look at another set of GREAT quilt shops this month! Once you download the block, visit them, it's so fun to find new quilt shops to visit!

Quilts & Treasures, East Longmeadow, Massachusetts

I opened Quilts & Treasures, Inc. on May 3, 2005. The store occupies a double store front in The Shaker Shops in East Longmeadow, Massachussetts, following a long tradition of quilt shops that have occupied the same location.

Known for our friendly service and fun events, Quilts & Treasures offers a wide variety of premium cotton fabrics, books, patterns, notions, threads, embroidery collections. Additionally, as an authorized Pfaff dealer, we offer sales and service of the brand's home sewing, embroidery and quilting machines, as well as Tutto luggage and Horn & Koala sewing machine furniture.

We provide fun, informative classes for quilters of all skill levels, helping them improve their skills and increase their creative options. We also offer a variety of clubs to engage the many styles and interests of our customers.

We are dedicated to community involvement, hosting such events as Quilt For A Cure Day to benefit breast cancer research, With Tea There Is Hope (a Head Trauma Awareness Event) to benefit Traumatic Brain Injury research, Quilts of Valor, ALS (quilts for the benefit of those suffering from Lou Gehrigs Disease) and food drives for Open Pantry / Rachel's Table.

Additional services include on-site service and repair of most home sewing machine makes and models, vending or speaking at Guild meetings or your special events and hosting bus groups (please call ahead).

East Longmeadow is a picturesque community, rich in history and community spirit. The East Longmeadow rotary used to host a horse trough in the middle for horses traveling from the farms to Springfield - thus the seven roads that enter and exit the rotary! It is included in Ripley's Believe It or Not!! If you're in the area, we hope you'll pay us a visit!

~ Valerie

Quilts & Treasures
Owner: Valerie Morton
56 Shaker Road
East Longmeadow, MA 01028

Links:
https://www.facebook.com/Quiltsandtreasures/
http://www.quiltsandtreasuresinc.com/index.htm

Phone:
(413) 525-4789

Hours:
• Mon: 10:00 am - 5:00pm
• Tues – Thurs: 10:00 am - 8:30pm
• Fri & Saturday: 10:00 am - 5:00pm
• Sun: Closed






Stewart's Sewing Machines, Mount Zion, Illinois

Stewart's Sewing Machines first opened its doors in 1964 in Decatur, IL. After a stint in the Army flying helicopters, Chan Stewart decided to start a second career focusing on sewing machine sales and maintenance. As times changed, he, along with daughter and co-owner Jana Wrigley, decided to open a quilt shop in Mt. Zion and opened the new store in 1996. With the large array of sewing machines, fabric and notions.

We carry several lines of quality fabrics and offer many different types of sewing machines from standard, straight-stitch machines, embroidery machines, and even sergers. In addition, we have a wide variety of quilt books and patterns as well as an extensive selection of embroidery designs.
Additionally, we carry a variety of sewing cabinets from Koala and Tailormade.
Stewart's is a factory trained and authorized service center, servicing all makes and models of sewing machines and sergers. We currently sell Babylock, Janome, Brother, and Elna machines. Our repair shop is right next to our store so all service work is completed right here at our shop in Mt. Zion.
Our trained sales staff and educators are here to meet all of your sewing and quilting needs. We offer a full line of sewing and quilting classes as well as a variety of "How To" seminars.

Stewart's Sewing Machines
Owner: Jana Wrigley
415 N State Highway 121
Mount Zion, Illinois

Links:
http://www.stewartssews.com/
https://www.facebook.com/pg/Stewartssewing/

Phone:
(217) 864 -6142

Hours:
•Tues - Fri: 9:30am - 5:00pm
•Sat: 9:00am - 2:00pm
•Closed Sunday & Monday




Where you can find Pat:

• Join Pat at her quilting Classroom on Facebook! Share your mystery quilt!
• Also join FreeQuiltPatterns.info on Facebook.
• If we have not met yet... it's super nice to know you!... Click here to learn about me.

You can find all the places I hang out at my home page, it's my name http://www.patsloan.com/