- Click Image to Enlarge -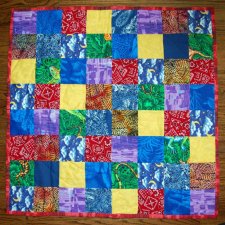 FREE Tutorial & Pattern - Tummy Time Baby Quilt by Karen Elisam
Ready for an easy and fun project that can keep your favorite infant intrigued during tummy time? Karen Elisam created this step by step tutorial and downloadable pattern and posted it on
Instructables
. By the way, check out this site when you get the chance, it has a wealth of free projects and resources!
More from Karen:

"In order to decrease the risk of SIDS, babies are being laid on their backs to sleep. Because they spend so much time on their backs, babies also need "tummy time" daily to develop strong neck and arm muscles and learn to crawl. This quilt provides a safe, stimulating place for baby to develop and play."

Finished Size: 36" x 36" (91cm x 91cm)

Materials: 64 colorful fabric squares 4.5" x 4.5", backing material 40" x 40", quilt batting 40" x 40", binding material cut into four 2" x 40" strips.

Equipment: Sewing machine, iron, rotary cutter and mat, large safety pins, needle, thread.


Skill Level: Easy to Intermediate

Visit the Website: Instructables
Do you like this design by Karen? If so, click the Like button
below:
What do you think of this tutorial?