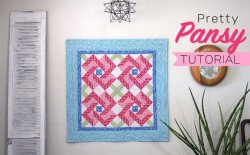 - Click Image to Enlarge -
Free Tutorial - Pretty Pansy Wall Hanging by Elisabeth DeMoo
Even though it's winter, we can dream of spring, can't we? The super cute wall hanging comes to us from Elisabeth DeMoo of Brown Bird Designs, and features the Simply Happy collection from Riley Blake, designed by Dodi Lee Poulsen. Her tutorial is a paper piecing project and has ample photos, providing everything you'll need to create this wall hanging. More from Elisabeth:

"It's here! It's here! Simply Happy fabric is now available online and in LQS everywhere. It is a fun and incredibly cheerful new fabric line from Riley Blake Designs. The colors are refreshing and perfect for that summer project you have been procrastinating about making. Or if you have been looking for a summer project but haven't found one yet, the Pretty Pansy Quilted Wall Hanging is just the one for you.

"My absolute favorite print of the line is the border print. The whimsical flowers at the bottom are wonderful, but it is the tall dainty ones that take my heart. Dodi Lee Poulsen designed it for Riley Blake Designs. Isn't it soooo cute?? I will be interviewing her about her fabric lines, blog and teaching; so stay tuned. Her new line has brightened my sewing room and inspired me to make this flowery tutorial which is a paper piecing project. I hope you love it!"
Do you like this project? If so, click the Like button below:
What do you think of this design?