- Click Image to Enlarge -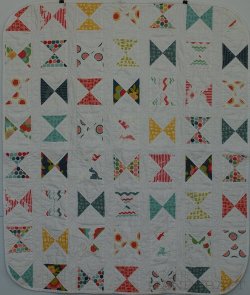 Free Tutorial - Modern Hourglass Baby Quilt by Nicole
This precious baby quilt would be the perfect addition if you or someone you know is expecting! Nicole Daksiewicz of Modern Handcraft teaches how to make the best use of the simple and versatile hourglass block in this project. Make your quilt whatever size you like! She includes useful photos of every step of the process, and great instructions. More from Nicole:

"This is a tutorial on how to make an hour glass block. For this quilt I used one charm pack, that consists of 42 5 inch squares. (since I omitted the dark colors this quilt only has 28 charm squares total used.) For the solid I used Kona cotton in Snow. For the backing you may purchase 1 yard of coordinating fabric plus 1/3 yard for the binding."
Do you like this quilt? If so, click the Like button below:
What do you think of this design?