Skip Navigation
Website Accessibility
- Click Image to Enlarge -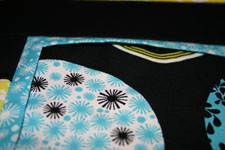 FREE Tutorial - How to Add a Flange to Your Quilts
Interested in adding a decorative flange to your quilts? Try this easy and fun tutorial by the team over at Quilting Lodge! More from the team;

"
I don't know about anyone else, but I'm always looking for ways to add a little flair to my projects. Who doesn't love flair? I know I get tired of doing the same old thing all the time so I thought I would try adding a flange to a border. Are you asking yourself right now, "What the heck is a flange?" A flange, by definition is a projecting edge of cloth used for decoration. I have to confess I had no idea the folded piece of fabric sticking out on quilts was called a flange. But, I guess flange sounds better than folded fabric thingy. Any who...a flange is actually very easy to add to a quilt. You can add it to the border or individual blocks.
"

Visit the website:
Quilting Lodge

Do you like this technique by Quilting Lodge? If so, click the Like button
below:
What do you think of this tutorial?