- Click Image to Enlarge -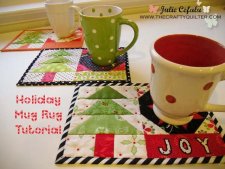 FREE Tutorial - Holiday Mug Rug by Julie Cefalu
What an adorable Holiday project! Julie from The Crafty Quilter put together this wonderful tutorial so that mugs everywhere can have a comfy place to rest this Holiday season. More from Julie:


"
It's official! The holidays are here and I have a mug rug tutorial to get you in the Christmas spirit! I love this design because it allows you to add some personalization.
"

Finished Size: 6.5" x 9.5" (16.5cm x 24cm)

Skill Level: Beginner

Visit the Website:
The Crafty Quilter
Do you like this mug rug? If so, click the Like button below:
What do you think of this project?