Skip Navigation
Website Accessibility
- Click Image to Enlarge -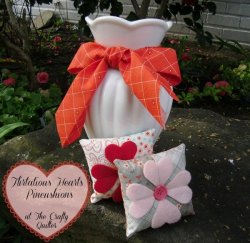 Free Tutorial - Flirtatious Hearts Table Topper and Pincushions by Julie Cefalu
Isn't this design adorable? We just love it! Take a look at this amazing project from Julie Cefalu, The Crafty Quilter, for a design she created for the Moda Bake Shop. The block features applique hearts and a wonderful layout and Julie's tutorial is thorough in explaining every step you'll need. More from Julie:

"I love working with Moda pre-cuts and today I am going to share a tutorial for an adorable table topper and pincushions that will be perfect for the month of February! You might decide that you want to hang your quilt on the wall instead, but it's small enough to place on a table (with a vase of flowers on top)! And the pincushions are actually what started this project for me. They were so cute, I thought why not make a table topper to go with them? And so it goes…"

Do you like this project? If so, click the Like button below:
What do you think of this design?