- Click Image to Enlarge -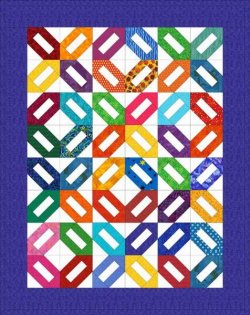 Free Tutorial - Cracker Baby Quilt by Janet Wickell
How about something wonderfully different in a baby quilt? We love this cracker quilt pattern, brought to us by Janet Wickell of The Spruce Crafts. She offers two colorways, and the first one, pictured here, is a delightful modern take on the design. Her second colorway is brightly colored and scrappy! Be sure to check out the extensive list of projects, The Spruce Crafts has quite a library, and the site is wonderful to use! More on the quilt from Janet:

"This small quilt is made with 6" Cracker quilt blocks. The blocks can be sewn into groups of four to make the final layout easier. Be sure to look at the last two pages of the pattern for additional layouts options before you sew quilt blocks together. A design wall will help you choose a layout.

"Only two fabrics are used for the Cracker quilt blocks, a black print and a turquoise blue mottled fabric, but you can sew with additional fabrics, and may prefer to make a scrap quilt from the pattern."

Do you like this quilt? If so, click the Like button below:
What do you think of this design?