Skip Navigation
Website Accessibility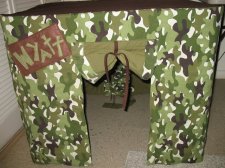 - Click Image to Enlarge -
FREE Tutorial - Card Table Playhouse from Sew Much Ado
Summer is almost upon us, and today's project will help kids from going stir-crazy! Stimulate their creative play by making a playhouse! This project from Sew Much Ado is straightforward and fun, and this idea can be adapted to a playhouse for girls, as well. More from the site:


"Okay, I know that some of you have been requesting a card table playhouse tutorial. Since I basically figured it out as I went, I didn't take pictures along the way, and since there's lots of different ways to make the playhouse depending on what you want it to have, I thought we could compromise and I will do a "tutorial-ette". If I were to do it over again I would also do some things differently, so here are my thoughts and tips for the whole thing."

Visit the website:
Sew Much Ado
Do you like this project? If so, click the Like button below:
What do you think of this tutorial?