Skip Navigation
Website Accessibility
- Click Image to Enlarge -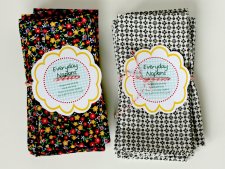 FREE Tutorial - Nine-Minute Everyday Napkins by Virginia Lindsay
Need a fresh idea for a housewarming gift, or perhaps just a refresher for your own dining room table? Look no further than this project by Virginia Lindsay of
Gingercake
. More from Virginia:
"
For a while I have been using cloth napkins that I made using
this mitered corner tutorial
. I love using them- not only for the nice feeling they have or how much prettier my table looks, but because I know I am doing a small thing to help reduce waste. A wise friend once told me that every little thing you do adds up to make a difference. So although I could be doing MUCH more, here is small thing that helps and makes your table look prettier every night too! I admit that I get pretty psyched about a nice looking table at dinner, even when I am serving kid stuff all the time
.
"
The napkins I made last year are great except making them was kinda a pain in the neck with all the ironing and looking for little folds, etc. Don't get me wrong, that Katy is brilliant! I also used the same method to make my scrap color baby quilt backing. When I decided to give these as gifts for Christmas this year, I discovered an even faster way to do the corners which makes the whole project a snap!
"

Visit the Website:
Gingercake
Do you like these napkins? If so, click the Like button below:
What do you think of this project?