Skip Navigation
Website Accessibility
- Click Image to Enlarge -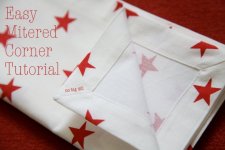 FREE Sewing Tips Directory from The Mother Huddle

How about some inspiration to make your sewing smoother and easier? Destri from
The Mother Huddle
has put together an impressive selection of resources, including ideas such as the second image to the side for the Easy Mitered Corner tutorial by Katy from
No Big Dill
.
The directory includes selections in the following areas: Stitches, General Tips and Techniques, Sewing Machine, Zippers, Bias Tape & Piping, Shirring, Seams, Making and Working with Patterns, Hems, Fabric, Adding Fasteners, Applique, Buttons, and Handy Articles. We applaud Destri's hard work in bringing this excellent resource to the online sewing community! More from Destri:

"I have been wanting to make this sewing tips directory forever. A list of all the best sewing tips, tricks, and techniques from around the web all in one spot. I had some pinned, some bookmarked, others referenced on my other posts, and some just in my head. Finally, one tidy list – kind of like a yellow pages for the best sewing tips. I hope you find it useful too, because it took for.ev.er. and if you just go on and on about how great it is I will feel much better about the kink in my neck from all the linking :). So bookmark it, pin it, or feel free to link to it – just please don't copy and paste it (that would make me sad with a kinked neck!).

"I will continue to update this as I find more too, so if you have one that should make the list, let me know!"

Visit the website:
The Mother Huddle
Do you like this sewing tip directory? If so, click the Like button below:
What do you think of this free online resource?