- Click Image to Enlarge -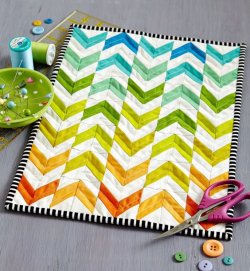 Free Projects - Tons of Mini Quilt Projects from Kari at U-Create Crafts
Get ready for cuteness overload: What's not to love about mini-quilts? Kari at U-Create Crafts has put together a wonderful list of free mini-quilt projects, and every one is absolutely adorable! She even thoughtfully included a couple of tutorials on how to hand your mini-quilts. More from Kari:

"Have you ever tried to make a mini quilt? I have to say I've been quilting for a few years and I have never made a mini quilt. What is wrong with me? They are so cute, take w-aaay less time, are perfect for wall hangings, and they're the perfect project for that "instant-gratification" crafter!

"I've collected some GORGEOUS free mini quilt patterns to share with you today. Keep in mind you can change things up a bit with patterns and you can do one block in a large quilt pattern to make it mini – VOILA!"

Do you like these mini-quilts? If so, click the Like button below:
What do you think of these projects?