Skip Navigation
Website Accessibility

Block Six: Halifax Public Gardens, Halifax Canada
Welcome to the third year of our exclusive Free Mystery Block of the Month by Pat Sloan! This year, Pat's theme is 'The Secret Garden'. With Block 6 we head up to visit our friends in Canada and explore the Halifax Public Gardens. The past blocks and supply list are here.

Pat's Video Tutorial
Watch the video as Pat gives us some tips for using plaids...Then read below to learn a bit about the park.


Download Secret Garden BOM Materials List and This Month's Block Pattern!



Click Here to download the PDF of Pat's materials list for the BOM. NOTE: If the document doesn't display properly for you, there may be a problem with your browser's PDF viewer. From the viewer window, there is a download button that will let you save the PDF to your computer, where you will be able to view and print it just fine.



Click Here to download the PDF of the pattern for Block Six: Halifax Public Gardens, Halifax Canada




Find Previous Secret Garden BOM Here

Visit Pat's page for a few additional fun insider tips and to share a photo of your block at her quilt show!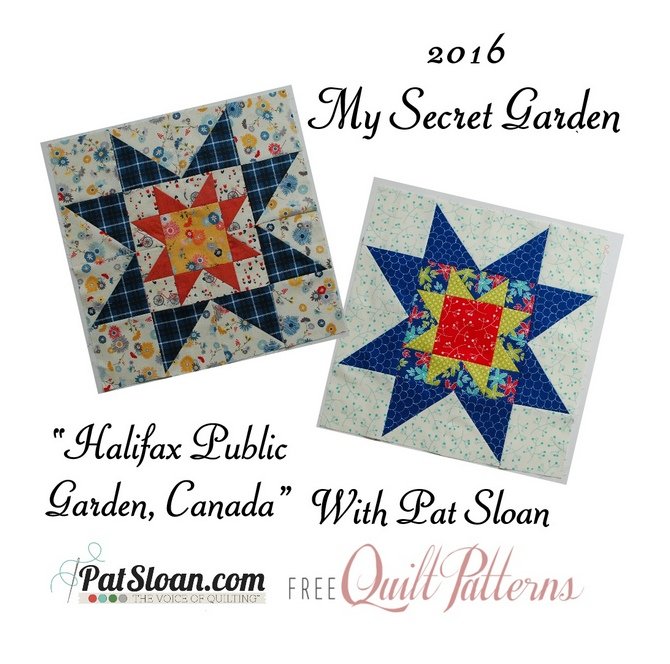 Pat Sloan on Block Six

I love doing the blocks in two colorways so you can see how different fabric placements change up a block. On colorway #1, the center star just floats. On colorway #2 the darker floral centers the whole block.

If you are looking for kits for either colorway I'm doing, click on our list of shops to contact. Some have told me they have few kits left, lucky you!

With the nice large 16.5" x 16.5", we will have a fun lap size quilt when done! Later this year you'll make extra blocks so we have a 3 x 4 structured block layout. The layout diagram is at the end of the pattern.

Please read on to learn a bit more...
Inspiration
I had the pleasure of visiting Halifax Gardens on a beautiful June day while on a cruise. We walked up to the park from the port and what a gorgeous surprise we found!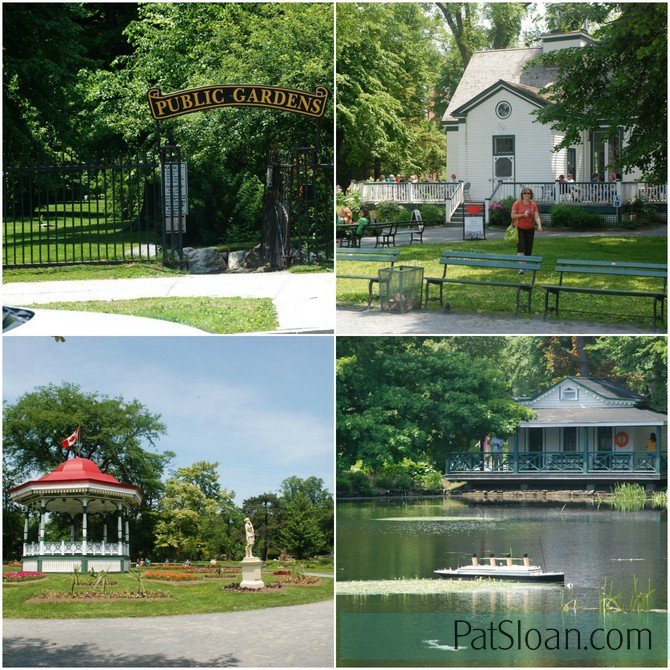 The best part of this garden was finding all the hidden buildings in it. From a Gazebo, to a little church, and the boat house.

Someone was sailing that miniature cruise ship in the lake, which was really fun to watch!

The Halifax Public Gardens was established in 1874 when two older gardens were combined - The Nova Scotia Horticultural Society Garden (from 1837) and the public park next door. When Richard Power was hired as the park's superintendent, he introduced a new layout which changed the look of the park. He introduced the bandstand and added fountains, statues, and beautiful wrought iron gates. The park is on 16 acres with several ponds and stone fences.

Learn more about Halifax Public Gardens at these links:

https://en.wikipedia.org/wiki/Halifax_Public_Gardens

http://www.halifaxpublicgardens.ca/

Go visit my article for a few additional tips and to share a photo of your block at my quilt show! http://blog.patsloan.com/2016-my-secret-garden/
More from Pat - Visit My Posts About Our Mystery Block of the Month!



Visit my post and share a photo of your block at my quilt show!



Click here for my page about this block for our Secret Garden Mystery BOM
Visit the shops that are hosting the Mystery and selling the kits
! If you own a shop and would like to offer this BOM,
join our Participating Shop mailing list
!
Join Pat at her quilting classroom on Facebook called Quilt with Pat Sloan. Share your mystery quilt! You can also join FreeQuiltPatterns.info on Facebook and join in on the active group commentary on FQP posts, tutorials, patterns, and videos you see on the site daily.

We have a Flickr page for sharing photos. Click the link below to go to the group page and become a group member for free, then you will be able to upload pictures of your own materials selections and the blocks that you create throughout the BOM.
Click Here for the Flickr Group

If we have not met yet... it's super nice to know you!... Click here to learn about me.

You can find all the places I hang out at my home page, it's my name:

Do you like this block? If so, click the Like button below:
What do you think of this block?